Custom Dugout Charts
ORDER NOW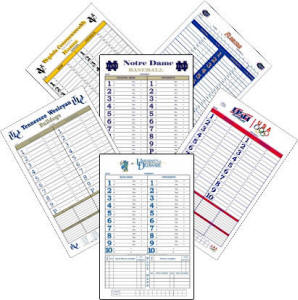 Reusable Dugout Chart
DRY ERASE WHITEBOARD - ORDER NOW


These are the same dugout charts used by most major and minor league teams, and provide a visual tool for coaches at any level to manage substitutions and bench decisions during a game. The can be customized to your specifications including number of players (i.e. 9, 10 or 11), your roster and any artwork you supply.
11" by 17" in size

Our standard dugout chart is printed in color, or optional black & white, on heavy white cardstock

Customized to your team, with school or team name across the top. You can also supply artwork for the top of the cards, or choose among our artwork selections.

Complete roster of player names and numbers are printed at the bottom for easy reference, and room is provided for writing in substitutes available to pitch or hit RH or LH.

Can be ordered without roster (which will be replaced by an inning by inning linescore)

Ten hitting slots with the 10th reserved, at your option, with a "P" for pitcher or "10"

In each slot, there is room for the starter's name, as well as up to three substitutes

Typically mounted on dugout wall but can be taped to a fence or any other surface for quick reference .